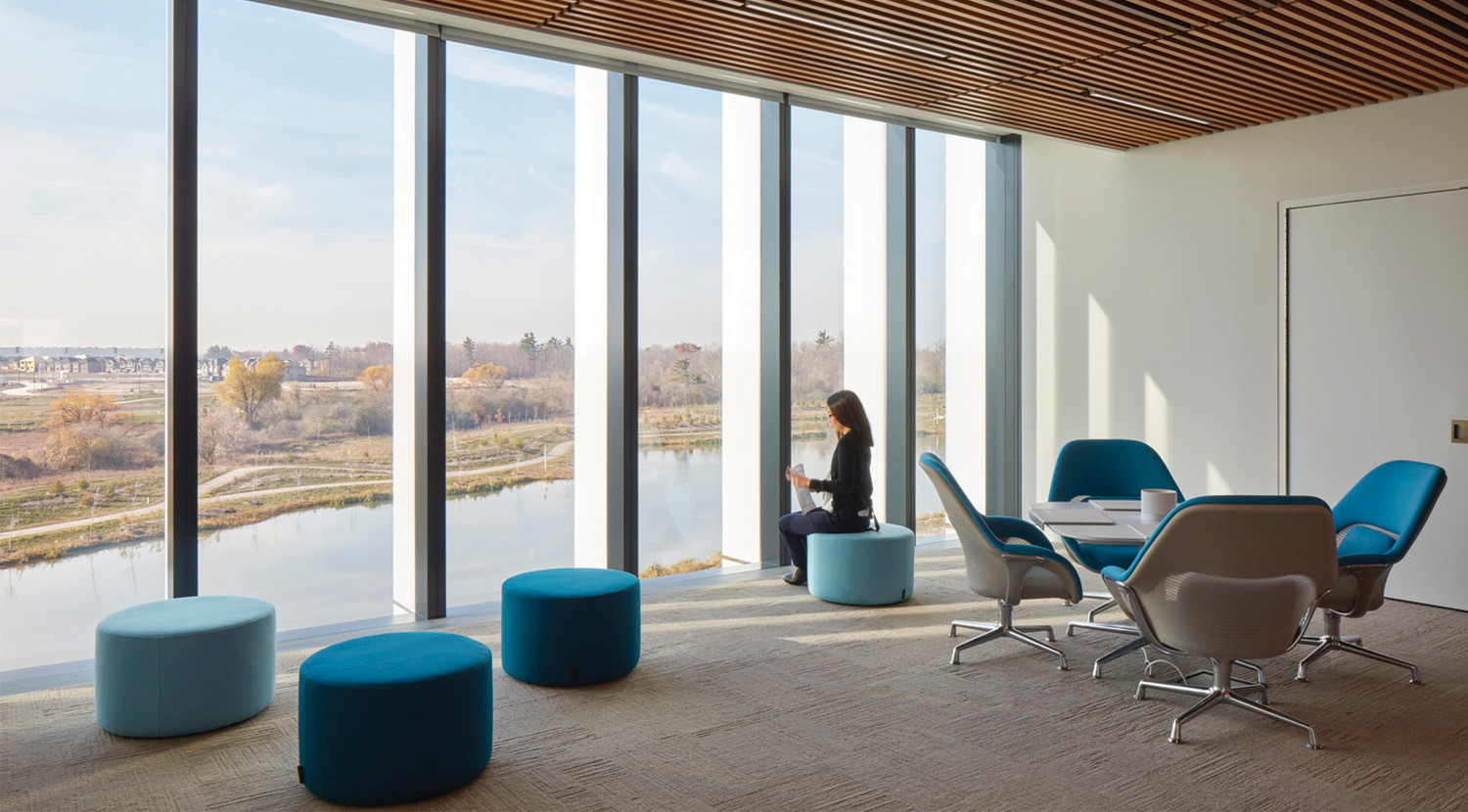 Canon Canada's new headquarters is the result of a five-year collaboration between Canon Canada and Moriyama & Teshima Architects (MTA). The vision was to balance privacy and collegiality in an open and serene environment. The new 176,000 square feet LEED Gold building would showcase Canon's brand values of clarity, precision, and technological elegance through progressive architectural and thoughtful interior design elements including furnishings providing employees with a reliable and elegant work environment.
The building plan begins with most public program spaces on the lower levels, and more private, secure program facilities on the upper levels. The ground floor contains the new state-of-the-art showroom, customer service lobby, conference room, and cafeteria. The second floor consists of labs, training rooms, and staff fitness centre. On the upper three levels are open office areas, private offices, and the top floor executive suite. A large central atrium with an expansive skylight interconnects all levels of the building, with shared meeting rooms and collaboration areas encircling this central light well. Together, the atrium and generous external windows maximize the natural light flowing into the interior space.
Canon selected POI and Steelcase out of five competing suppliers to provide the furniture for 66,748 square feet of space. This included workstations, private office furniture, and collaborative pieces, some with embedded technology, for the common areas. POI Business Interiors, a Platinum Steelcase Dealer, would be the team to work closely with MTA to complete the furniture plan and meet the installation time lines.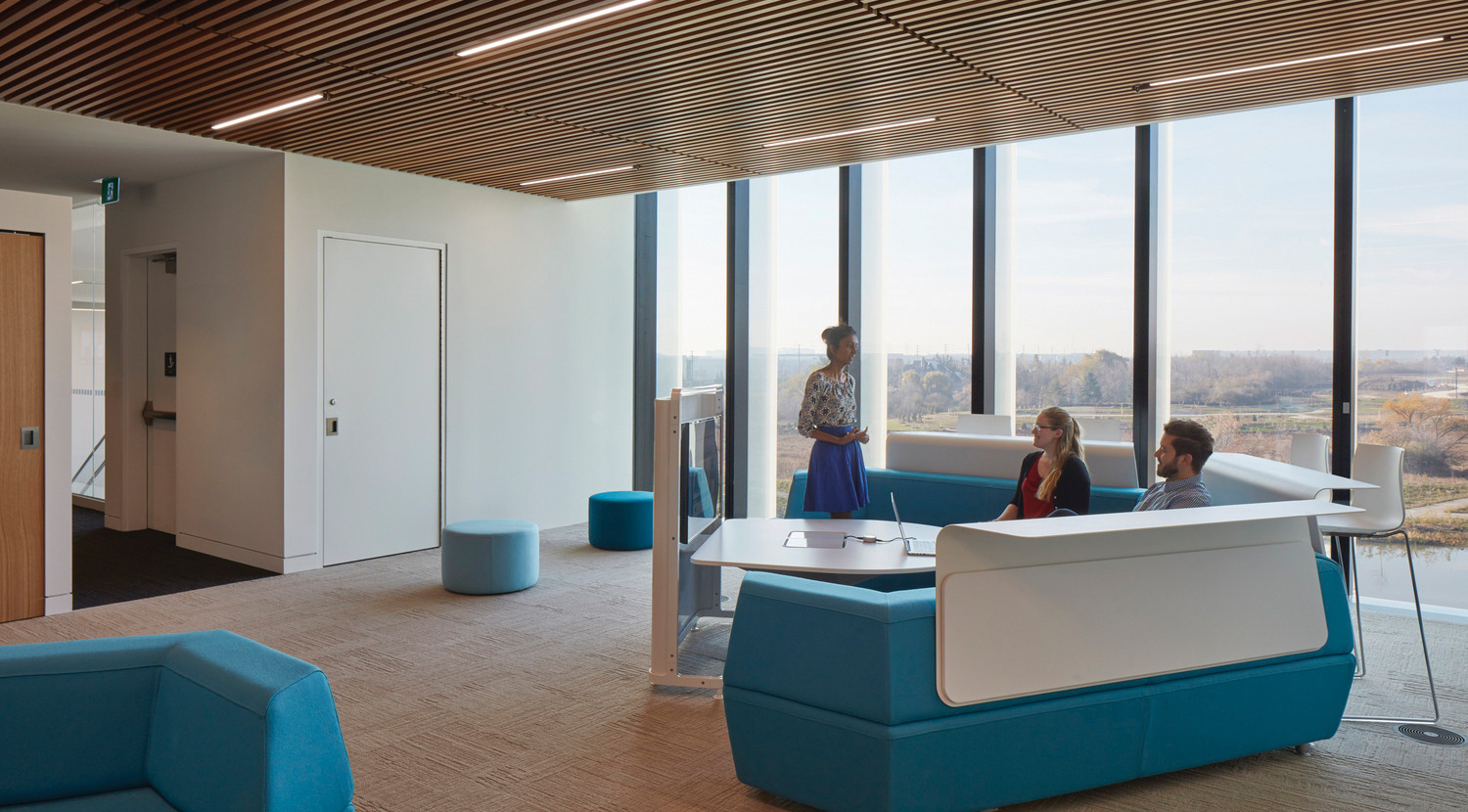 As part of the selection process, vendors were asked to provide a mock-up for a typical workstation, where Canon could see the final layout, size, finishes, and details of each manufacturer's components. Steelcase representative Lisa Snucins describes the solution that formed the foundation of their offering, "With the mock-up of our Answer workstation, we showed a versatile solution that could adapt to a changing environment in a clean and beautiful way."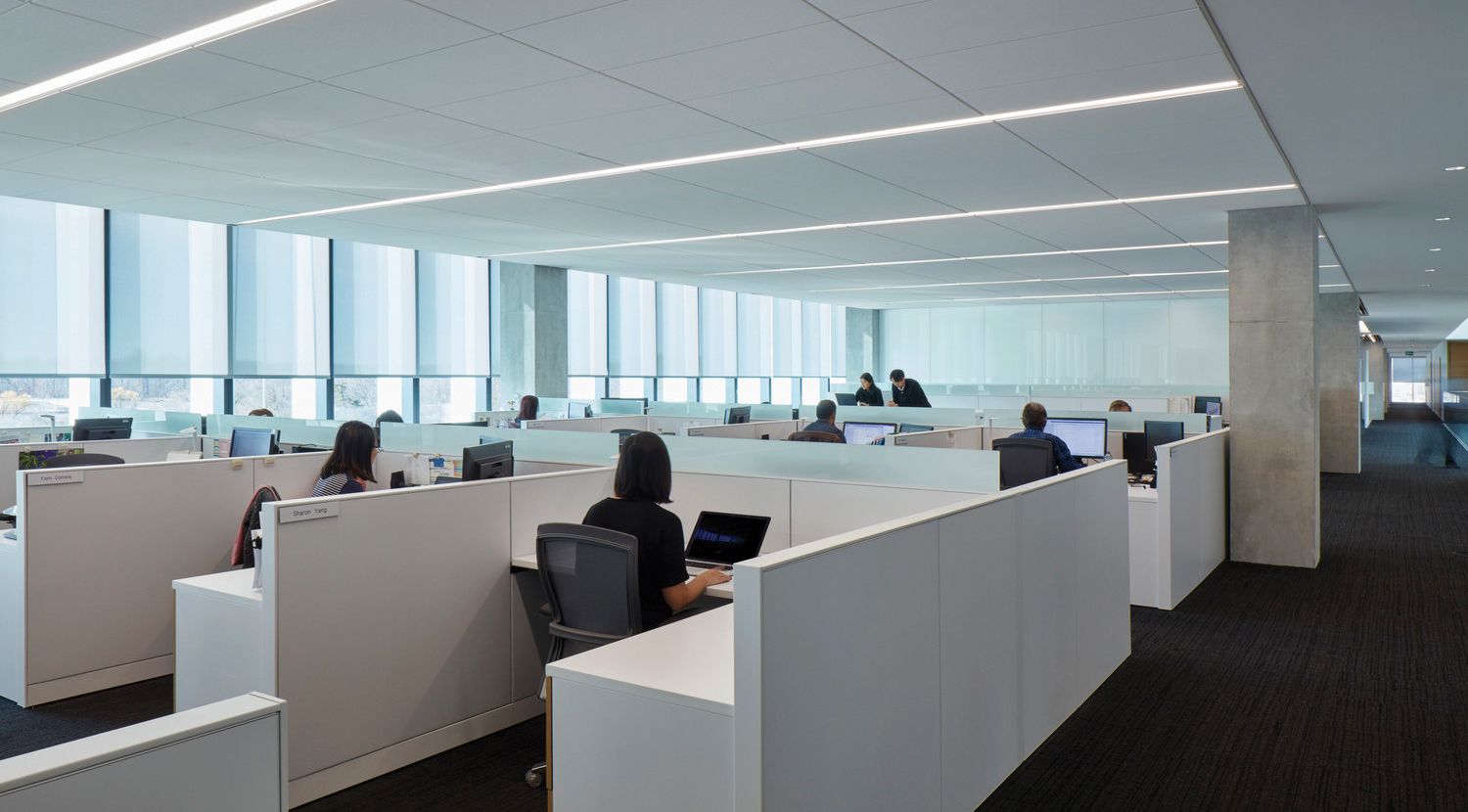 "We really liked the comprehensive product line and attention to details like the cable management, which echoes the precision of Canon's products."
---
Director of Interior Design  |  Chen Cohen
Lowering the panels and using lighter colours for finishes reinforced openness and connectivity, keeping the office areas bright and airy. Light and sightlines are unhindered, and a centralized filing system reduces paper storage and creates efficiencies at individual work areas.
Bright and colourful furniture was introduced to invite staff to meet in more informal and collaborative settings. Steelcase's media:scape Lounge product was selected for its versatility and ability to integrate technology.
"One of the best surprises of the new building is seeing how frequently employees use the collaboration areas. They are naturally drawn to media:scape in order to finish discussions and hold casual meetings. The scale of the unit is perfect, and the colours act as a beacon that people gravitate toward. We're very pleased with how these spaces turned out."
---
Director of Interior Design  |  Chen Cohen
Tanya McLean 

| Account Manager

POI's Tanya McLean worked hand-in-hand with MTA and Canon to ensure a seamless transition from the procurement process through the move-in phase. Once staff occupied the building, POI held orientation sessions to educate them about the technology in the open collaborative spaces, and review the workstations and private offices.

"Tanya quickly understood our objectives for the project and how we wanted to schedule a pretty complex multi-phase installation.  She ensured we always met all of our target dates, and was present during the week of Canon's official move-in, welcoming staff and answering any questions."

Director of Interior Design  |  Chen Cohen
For more workplace case studies,