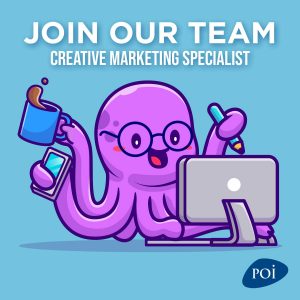 Creative Octopus
You're a multitasker much like an Octopus – with creative smarts and an ability to manage many different tasks simultaneously. Under the direction and guidance of the Marketing Director, the Creative Marketing Specialist will be an integral contributor in executing the marketing plan to support the Mission and Vision of POI.
As someone who enjoys variety, you will be developing content, materials, and tools to support the POI message across the Customer Journey. With a strong graphic design capability, you like to get your many hands into the marketing weeds as you affect changes to the website, engage customers through social media, help deliver event support, and assist with communication activities including CRM/email outbound content, and advertising.
The Creative Marketing Specialist can look forward to working with an agile Marketing Team that gets things done. Self-motivated and resourceful, you'll bring positivity to the team and have an opportunity to quarterback projects and learn. With attention to detail and quality, you will have the right temperament and your sense of order will help you prioritize tasks so that your many arms do not get tangled up.
Look forward to being involved in many aspects of the business as you help build our marketing toolkit!
Marketing Content Creation:
Develop consistent, cohesive marketing content for various touchpoints within the Customer Journey

Proposals
Presentations
Internal Communication & Storytelling
Events
RFP's
Salesforce outbound (optimize sales automation/CRM platform marketing capabilities)

Support the training on the use of POI marketing tools to others at POI
Website:
Utilize Steelcase Dealer Web (WordPress) platform to maintain POI's website keeping content fresh and current with respect to all POI products and services
Provide required on-brand POI content
Database Management:
Utilize established marketing automation platform to ensure best practices in client surveys, outbound marketing, and lead management
Manage, monitor, and maintain data quality within the lists
Social Media:
Develop and manage a content rich editorial calendar that supports the POI brand and story
Provide specific POI activities/messages to augment the product and corporate content provided by other sources
Includes: Facebook, Twitter, LinkedIn and Instagram as appropriate
Case Studies:
Develop and maintain a library of case studies
Post case studies on POI website and social media if applicable
Format study and maintain template such that a printed version can also be created
Goal to create at least three case studies per quarter
Other:
Develop, manage, and share regular internal messaging using established employee communication platforms.
Support client and internal events and webinars as required.
You've got the credentials to make it happen
Degree/Certificate in graphic design, marketing, or general business with marketing major preferred
Strong and demonstrable graphic design competency and proficiency using Adobe Creative Suite
Experience in marketing content creation including web specific content
Proficiency using WordPress and social media software
Skill in creating, editing, and promoting written and visual content
Video and photography capability and added plus
Our promise
At POI, we create environments and experiences that inspire. This holds true for both customers and staff. We offer a hybrid work environment (work/home) including newly designed offices that offer unique workspaces that strengthen connections and inspire innovative ways of working. With flexible spaces along with flexible hours, health and dental benefits, and competitive salaries, we not only advocate a work-life balance, but we live it!
Start Your Application
We'd like to find out a little more about what makes you tick, so we've put together a fun and short survey called the Culture Index. There are no wrong or right answers. This process, in addition to your resume, enables us to determine the fit for the role before you commit valuable time to the interview process. To complete the survey, click on this link and select the position you are applying for. Please follow the instructions and download your resume.