Puzzle Master Wanted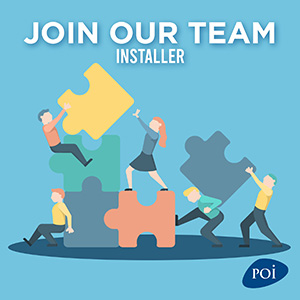 Do you enjoy playing with Lego and doing puzzles? If you answered yes, you might be just what our installation team is waiting for. You're part builder, part puzzle solver and it all comes together when you get working at the client site. As our new Installer, you will be part of a team who will work with you to exceed our customers' expectations in line with POI quality standards while following the manufacturer's installation guidelines.
More about the role
Reporting to the Manager, Delivery and Installation as well as to the Installation Supervisor while on site, you will be responsible for receiving and installing high quality office furniture in an efficient manner to ensure the installation is done on time and on budget
And this!
• Reviews and understands installation plans prior to install
• Receives and assembles furniture to POIs quality standards and manufacturer instructions as directed by the Installation Supervisor
• May lead a small crew of installers from time to time
• Identifies any safety concerns or significant issues/risks and discusses with Installation Supervisor to develop action plan.
• Any installation issues documented quickly
• Operates company vehicles in a responsible manner and ensures they are well maintained
• Attends job-related training courses required to enhance job performance of self and installation crew.
You've got the credentials and flexibility to make it happen
• Experience working in a role requiring similar skills to furniture installation.
• Customer Service Skills.
• Verbal communication skills.
• Strong physical condition.
• High School Diploma.
• Aware of Health and Safety Regulations
• Valid drivers license with clean driving record
• Successful criminal background check
• Work is 10% in the office, 90% in the field at customer installations
• Is flexible in working hours, overtime hours on evenings and weekends to get the job done to customer's satisfaction
Our promise
At POI, we create environments and experiences that inspire. This holds true for both customers and staff. We offer newly designed offices that offer unique workspaces that strengthen connections and inspire innovative ways of working. With flexible spaces along with flexible hours, health and dental benefits, and competitive salaries, we not only advocate a work-life balance, but we live it!
Start Your Application
We'd like to find out a little more about what makes you tick, so we've put together a fun and short survey called the Culture Index. There are no wrong or right answers. This process, in addition to your resume, enables us to determine the fit for the role before you commit valuable time to the interview process. To complete the survey, click on this link and select the position you are applying for. Please follow the instructions and upload your resume.