Air Traffic Controller Needed to Navigate Busy Project Schedule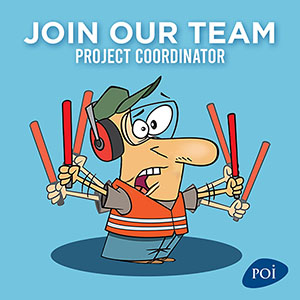 If you're agile, detailed, and able to pivot quickly to manage different priorities within a team environment, you might just be our next Project Coordinator. You pride yourself on being proactive, but when the friendly skies turn turbulent, your heat seeking guidance skills are put to the test. Working with various Account executives and their assigned customers, you adeptly keep projects and all related processes running smoothly.

More about the role
Whether your customer projects are ready for takeoff, in a holding pattern, or about to land, you will successfully manage their execution, post order and support the Customer Journey in a fast paced, project driven environment.  That includes coordinating all activities related to the order management process including customer service, order follow-up, delivery and installation, invoicing, deficiency follow-up and resolution.
And this!
• Initiate and maintain contact with Customer on all aspects of Order/Project as soon as the order has been converted
• Review of all order information and confirm the order's current scope; bring any issues to account executive attention as soon as possible
• Monitor order status & perform customer service functions for all day-to-day and project orders
• Expedite ESD w/ manufacturers/suppliers as required to meet required dates
• Process all order/project change orders following Change Order Process
• Coordinate all additional service requests
• Schedule all deliveries and installations
• Ensure complete delivery and installation package is forwarded to Installation Department and/or awarded subcontractor 5 business days prior to job start
• Expedite, coordinate and resolve all deficiencies per punch-list/deficiency walk through
• Verify all order/project delivery/installations have been completed per specification
• Close out all orders to initiate invoicing process within 5 business days of the completed phase/project
• Schedule and conduct project planning/ phasing Meetings and monitor activity/progress on a regular basis
• Available to resolve installation issues during non-regular working hours – via cell phone
• Fulfil Project Management responsibilities for Network Projects or Regional Offices
• Support all initiatives with respect to Health and Safety in the work place, which includes review our health and safety policy on a quarterly basis.
You've got the credentials to make it happen
• Project coordination experience required High School Diploma minimum, post-secondary education preferred
• Proficient in Hedberg
• Excellent working knowledge of current Microsoft Office including Excel, Outlook and Word
• Experience with customer interfacing, both internal and external clients
• Experience with Office Furniture and related services
• Experience in Project implementation
• Strong administrative skills with sharp attention to detail
• Excellent organizational skills
Our promise
At POI, we create environments and experiences that inspire. This holds true for both customers and staff. We offer newly designed offices that offer unique workspaces that strengthen connections and inspire innovative ways of working. With flexible spaces along with flexible hours, health and dental benefits, and competitive salaries, we not only advocate a work-life balance, but we live it!
Start Your Application
We'd like to find out a little more about what makes you tick, so we've put together a fun and short survey called the Culture Index. There are no wrong or right answers. This process, in addition to your resume, enables us to determine the fit for the role before you commit valuable time to the interview process. To complete the survey, click on this link and select the position you are applying for. Please follow the instructions and upload your resume.