It's like Herding Cattle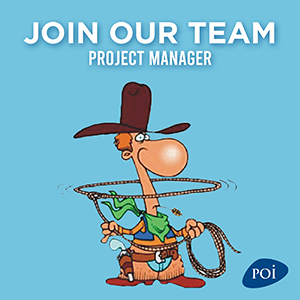 Giddy up! We're looking for a Project Manager, adept at corralling resources to drive successful outcomes. Much like a Wrangler, you're taking care of your arena, ensuring that none of the herd get out of line or go missing. You're working with both external and internal clients as well as with our vendors to ensure that the project stays on track. Charged with managing and executing on a defined scope, your lasso is your knowledge and tools of the trade that empower you to coordinate and seamlessly implement the project.
More about the role
From Solution Development phase right through to Project Execution and Close Out, the Project Manager will roll out the successfully planned and executed projects while supporting the customer journey. You will also need to be able to inspire the confidence of stakeholders and sponsors in the event the budget or timeline needs to be renegotiated or additional resources are needed to complete the project. As Project Manager, you will work on projects that have multiple POI services in addition to furniture. Yeeha!
And this!
Project Based Responsibilities
••Work with the Account Manager as well as the POI internal team on the Project Solution Development and execution Process
• Use progressive Procore software to help automate project tracking and communication
• Initiate and maintain contact with customer on all aspects of Project from the point of on-boarding
• Develop a schedule and execution work plan, based on project parameters, schedule, scope and client goals. Manage task assignments through project completion
• Maintain detailed project documentation, including of key project decisions and client/project requests/revisions
• Review of all order information and confirm the order's current scope
• Expedite ESD w/ manufacturers/suppliers as required to meet required dates
• Process all order/project change orders following Change Order Process
• Coordinate all additional service requests
• Schedule all deliveries and installations with D&I through Hedberg Scheduler
• Schedule delivery and installation on large projects with Field Supervisor
• Ensure complete delivery and installation package is forwarded to Installation Department and/or awarded subcontractor 5 business days prior to job start
Reports and Deliverables
• Provide a professional, single point of contact for client relations through all project phases. Provide timely, formal written communications throughout project to client and project team
• Review project site, plans and product specifications
• Manage all final project close-out requirements, including, client sign-off. Based on OIM's as entered by PFS or installation supervisor, order, expedite, coordinate and resolve all deficiencies per punch-list/deficiency walk through report. OIM's should be resolved within 15 business day unless there are extenuating circumstances. Communicate punch list status to client and sales weekly
• Verify all order/project delivery/installations have been completed per specification
• Close out all orders to initiate invoicing process within 5 business days of the completed phase/project
Project and Team Meetings
• Schedule and conduct project planning/ phasing Meetings (pre-install) with Sales Exec, Studio, Field Supervisor/D&I and monitor activity/progress on a regular basis
• Available to resolve installation issues during non-regular working hours
• Participate in Department meetings to further develop the department objectives
• Support all initiatives with respect to Health and Safety in the workplace, which includes review our health and safety policy on a quarterly basis.
• Other duties as required
You've got the credentials to make it happen
• Experience in Project implementation and coordination; minimum 5 years' experience
• High School Diploma minimum, post-secondary education preferred
• Excellent working knowledge of current Microsoft Office including Microsoft Project, Adobe, Excel, Outlook, Word and Hedberg
• Experience with customer interfacing, both internal and external clients
• Experience with Office Furniture and related services is helpful
• Strong administrative skills with sharp attention to detail
• Excellent organizational skills
• Excellent problem-solving skills & multitasking capabilities
• Knowledge of the POI Order Fulfilment Process preferred
• Strong leadership skills and an ability to perform well in a team environment
Our promise
At POI, we create environments and experiences that inspire. This holds true for both customers and staff. We offer newly designed offices that offer unique workspaces that strengthen connections and inspire innovative ways of working. With flexible spaces along with flexible hours, health and dental benefits, and competitive salaries, we not only advocate a work-life balance, but we live it!
Start Your Application
We'd like to find out a little more about what makes you tick, so we've put together a fun and short survey called the Culture Index. There are no wrong or right answers. This process, in addition to your resume, enables us to determine the fit for the role before you commit valuable time to the interview process. To complete the survey, click on this link and select the position you are applying for. Please follow the instructions and upload your resume.