You're a Tracker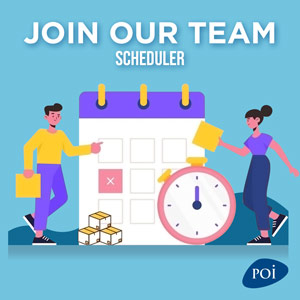 As the Scheduler, you need to define resource requirements for jobs, coordinate with supervisors and drivers and schedule them, then track their progress by reviewing all related communications. Time is of the essence and tracking those in the field to support the success of each job and address any challenges will be key.
More about the role
The Scheduler, under the direction of the Operations Manager, will primarily be responsible for creating and executing the D&I schedule daily for all drivers & installation teams ensuring accuracy & efficiency while keeping costs to a minimum.
And this!
Efficiently schedule resources for all prebooked jobs, as well as soft-scheduled work based on geographic locations, strengths & weaknesses of installation crew, and specific customer requests
Define all subcontractors resource requirements and ensure adequate manpower is assigned to each job
Verify installation teams and drivers have Delivery Tickets, Floor plans and any other information necessary to complete their jobs successfully
Coordinate return trips (specifically deficiencies that can be resolved internally within the department) in a timely manner to ensure customer satisfaction & minimize further delays in job completion
Tracks progress of installation crews in the field and maintains customer contact if there are any significant delays or changes, as well as internal communication with related POI departments – ensures POI's commitments are met and involves D&I Manager appropriately.
Review D&I bookings emails for any updates, cancellations & additions and apply changes accordingly
Main contact for Supervisors & Drivers for installation related matters
Identify significant scheduling issues/risks and develop action plans with Installation Manager
Back-up for Dispatch Assistant
Back-up for Operations Administrator
You've got the credentials to make it happen
Team oriented individual
Strong leadership skills
Ability to think strategically
Good organizational skills
Good oral and written communication skills
Strong knowledge of technical aspects and order fulfilment process.
Demonstrated ability to handle heavy workload
Strong product knowledge
High School Diploma
Ten years Steelcase Furniture Installation experience
Aware of Health and Safety Regulations
Ability to work in high-stress/pressure environments
Performance Measurements:
Accurate and complete job details and reports
Department budgets and cost reduction strategies are met
Turnaround time goal is met
Installation Department deficiencies costs
Complete information is received on O.I.M.'s
Complete information is received on Installation Checklist
Demonstrate leadership/role model qualities – i.e. good attendance, punctual, good attitude along with POI's core value and beliefs
Whenever possible, offer assistance or provide suggestions to other departments to help achieve POI goals
Our promise
At POI, we create environments and experiences that inspire. This holds true for both customers and staff. We offer newly designed offices that offer unique workspaces that strengthen connections and inspire innovative ways of working. With flexible spaces along with flexible hours, health and dental benefits, and competitive salaries, we not only advocate a work-life balance, but we live it!
Start Your Application
We'd like to find out a little more about what makes you tick, so we've put together a fun and short survey called the Culture Index. There are no wrong or right answers. This process, in addition to your resume, enables us to determine the fit for the role before you commit valuable time to the interview process. To complete the survey, click on this link and select the position you are applying for. Please follow the instructions and download your resume.