Tech Wizard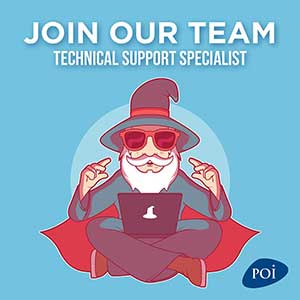 Are you a problem solver who likes to help others? As our new Technical Support Specialist in our One Team, you have what it takes when it comes to technology troubleshooting, performing system updates, managing software licensing, and customer setup requirements on a range of devices. It's not magic but it sure seems like it to those who are not tech savvy. You're the one who can intuitively assess basic user experience errors and resolve them effectively using patience and clear direction. You also have the know how to troubleshoot and remedy issues pertaining to systems and technology faults and escalate them where required. You're part tech geek, part user experience expert and you bring a methodical and sequential approach to assisting our company users with their technology needs.
More about the role
This is a hands-on position that requires a strong customer service orientation and excellent technical skills along with an ability to multitask and prioritize in a fast-paced environment. After-hours work will be required in emergency situations. You'll be assisting users both off site for user home support, as well as at branch offices. Get ready to perform your magic!
And this!
Administer and support all IT equipment – desktop computing, Wintel servers, printers, telephone instruments and equipment, switches, routers, and other general networking equipment.
Diagnose problems, train users and provide desktop and mobile computing support.
Coordinate with vendors on basic facility issues.
Apply software patches / upgrades and respond to user requests as needed.
Perform pro-active maintenance on all computing equipment.
Diagnose, troubleshoot and resolve hardware, software or connectivity problems
Managing backups for all offices
Provide help desk support to onsite and remote users.
Active Directory maintenance
Support for remote users using VPN or RDP – Telephone and or home visits for troubleshooting
Set up client machines
Load system and application software
Maintenance of Cisco and Meraki devices
Document standard operating procedures to aid in problem solutions
Monitor servers and printers to ensure maintenance and support requirements are met
You've got the credentials to make it happen
Minimum 2 to 3 years related working experience
Vehicle and valid driver's license is required
College Diploma required in Networking and Technical Support
A+, MCP or MSCE preferred.
Virtualization experience (Hyper-V, VMWare or other hypervisors)
Experience with Microsoft Windows server technologies (Server 2008 R2/2012/2016) operating systems, Exchange, DNS and Active Directory, and virtualization platforms.
Basic understanding of Cisco switches, routers and TCP / IP networking.
Proficiency in MS Office 365 and Exchange Online, AutoCAD, Adobe Acrobat Professional, Win7/10
File Server knowledge, including permissions and security
Excellent communication, time management and problem-solving skills.
Available on-call some nights and weekends
Our promise
At POI, we create environments and experiences that inspire. This holds true for both customers and staff. We offer a hybrid work environment (work/home) including newly designed offices that offer unique workspaces that strengthen connections and inspire innovative ways of working. With flexible spaces along with flexible hours, health and dental benefits, and competitive salaries, we not only advocate a work-life balance, but we live it!
Start Your Application
We'd like to find out a little more about what makes you tick, so we've put together a fun and short survey called the Culture Index. There are no wrong or right answers. This process, in addition to your resume, enables us to determine the fit for the role before you commit valuable time to the interview process. To complete the survey, click on this link and select the position you are applying for. Please follow the instructions and download your resume.