The way we work has been completely transformed in the last few years. One of the biggest changes we saw and continue to experience is the shift from working exclusively in an office space to hybrid work. And what has become increasingly clear is that the most important part of an organization is its people.
Now, more than ever before, businesses need to adapt to the needs of their employees and work even harder to attract and keep talent. Many organizations are starting to embrace and embody these changes in order to make work life balance a reality for everyone.
Let's take a look at some of the major workplace trends this year and the modern office furniture solutions which support them.
Hybrid Work Made Easier With Modern Office Furniture
While it seemed temporary at first, the shift to working from home isn't just a phase anymore. Businesses are becoming more flexible by giving employees the option to work both at home and in the office. And while many people still prefer to come in to work for structure, guidance, and collaboration with their fellow teammates, others have fully adapted to and prospered working from home. To accommodate this, organizations can go the extra mile by providing employees with the right modern office furniture for the home.
Ergonomically designed seating is a must when it comes to working both at home and in the office. Consider the Series 1 – a comfortable and adaptable chair that intuitively responds to the movement of the body.
Or the Leap, which provides a much healthier way to sit by mirroring the movement of the user's back and arms.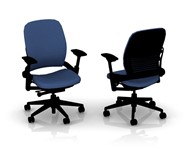 With sit-to-stand work environments becoming the standard in workspaces, there are multiple modern office furniture solutions offering unique and practical ways to reduce back pain as a result of extended sitting. One option is the Bivi Height Adjustable Desk by Turnstone, which was specially designed for those who want to have the option of either sitting or standing.
Also consider the ACTIV-1. Created to offer movement and flexibility, the ACTIV Series height adjustable table includes a touch-activated LED display allowing users to control and save their preferred height settings.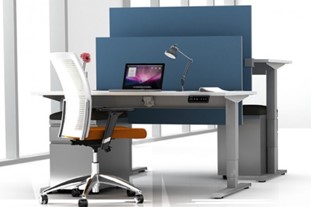 Communication Platforms Empower People
Over the last few years, digital communication platforms have become foundational within the workforce by facilitating easy access to information and people, as well as allowing for better collaboration, connection, and productivity.
They also enable employees working in and outside of the office to be more engaged by having them connect, get informed, and work with purpose through the use of audio visual technology.
Most importantly, digital communication platforms have empowered people to have a voice within their own organization by allowing them to be more involved and share their expertise and ideas.
Appspace for example, offers an app that acts as a single destination for all employees to find the latest announcements, videos, and reservation tools no matter where they are. This digital management tool can seamlessly be used to display different content on various displays within an organization's facility – effectively driving brand, culture and delivering knowledge.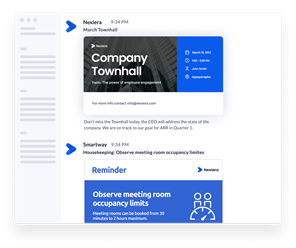 Another great tool is RoomWizard by Steelcase. It's a web-based meeting room scheduling system that solves the dilemma of booking rooms by connecting workers to meeting spaces.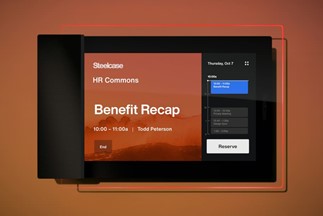 Privacy Solutions for All Situations
While many organizations have recognized that collaboration is a huge driving force behind progress and innovation, privacy tends to be forgotten. In some cases, not enough privacy can take a toll on creativity, productivity, engagement, and even wellbeing.
But tackling this problem doesn't need to be a challenge, with Steelcase offering multiple modern office furniture solutions that transform the workspace to offer more privacy.
One example is the Steelcase Work Tents Collection of versatile privacy solutions inspired by tents. From simple screens to small enclosures, they provide lightweight shelter and protection from common workplace distractions such as noise and stress. Compatible with existing office furniture, they are easy to integrate, allowing users to choose their desired amount of privacy.
Steelcase also offers the Orangebox award-winning Air3 Acoustic Pod Range that can act as a freestanding meeting room, private space, phone booth, or touchdown room. Made from a combination of high-quality glass and soft, acoustic, interchangeable paneling, these unique pods add insulation, privacy, and a refined aesthetic to any space.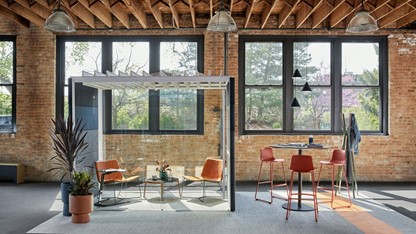 Adaptive Real Estate
Being flexible has become increasingly important for organizations that want to make the best use of their real estate. Businesses are choosing to reinvest in and redesign existing and underused offices by incorporating creative solutions like a flex space for employees.
One great way to revamp an existing workspace is to look to the Steelcase Flex Collection. Offering a vast product line created for high-performing teams and individuals, the Flex Collection enhances any office with comfort, control, and flexibility for better collaboration as well as privacy.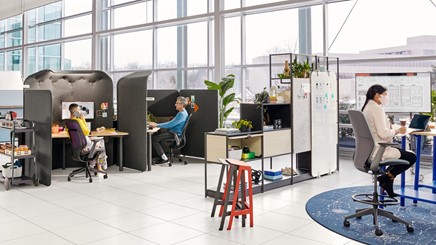 Change Your Business for the Better with the Help of Modern Office Furniture
It's never too late to invest in employee success and the most effective organizations are the ones that start by investing in better workspaces for their people. To find the perfect modern office furniture and technology solutions for your company, contact the experts at POI today.