While collaboration has always been a huge driving force behind progress and innovation at work, many companies are starting to recognize the importance of privacy and downtime when it comes to the bottom line.
It's been widely established that in some cases, not enough privacy can take a toll on creativity, productivity, engagement, and even well-being. In one Steelcase study – in consultation with the University of Wisconsin-Madison – research showed that providing areas of visual privacy helped employees focus within a noisy open office space.
Many people have become accustomed to the quiet and privacy of their homes over the past few years. But now, as restrictions ease up and employees return to the office, companies need to find ways to provide privacy and better focus to their employees. That's why offering more areas of visual privacy can alleviate some of the distractions at work.
Business Furnishing Solutions to Transform the Workplace
POI offers multiple business furnishing solutions that transform the workspace to create a perfect balance between individual needs and the needs of a team, while helping everyone thrive.
Steelcase Work Tents Collection
A versatile range of business furnishings inspired by tents, the Steelcase Work Tents Collection includes everything from simple screens to small enclosures. Offering lightweight shelter and protection from common workplace distractions such as noise, these work tents are highly compatible with existing office furniture and easy to integrate into current layouts. They also allow users to choose their desired amount of privacy.
Air3 Acoustic Pod Range
This award-winning Air3 Acoustic Pod Range from Orangebox has multiple uses including acting as a freestanding meeting room, private space, phone booth, or touchdown room. Made from a combination of high-quality glass and soft, acoustic, interchangeable paneling, these unique business furnishings add insulation, privacy, and a refined aesthetic to any space.
Steelcase Flex Personal Spaces
Steelcase has reimagined privacy with this new business furnishing approach to a workspace. The Flex Personal Spaces give users an improved degree of privacy, as well as control and comfort in a hybrid workplace. Easy to implement in an existing office, these business furnishings are ideal for both quick video calls and sustained heads-down focus time by giving people control over their work experience. 
Montage Panel System by Steelcase
The Montage Panel System considers everything from ergonomics and workflow, to useable space, in order to help businesses improve focus, communication, and productivity. Each element in this series is offered in a wide array of surface material options, proving to be highly customizable for any workplace setting. Inspired by the idea that an environment has the power to affect morale and productivity, the Montage Panel System was specifically designed to help employees do their best at work.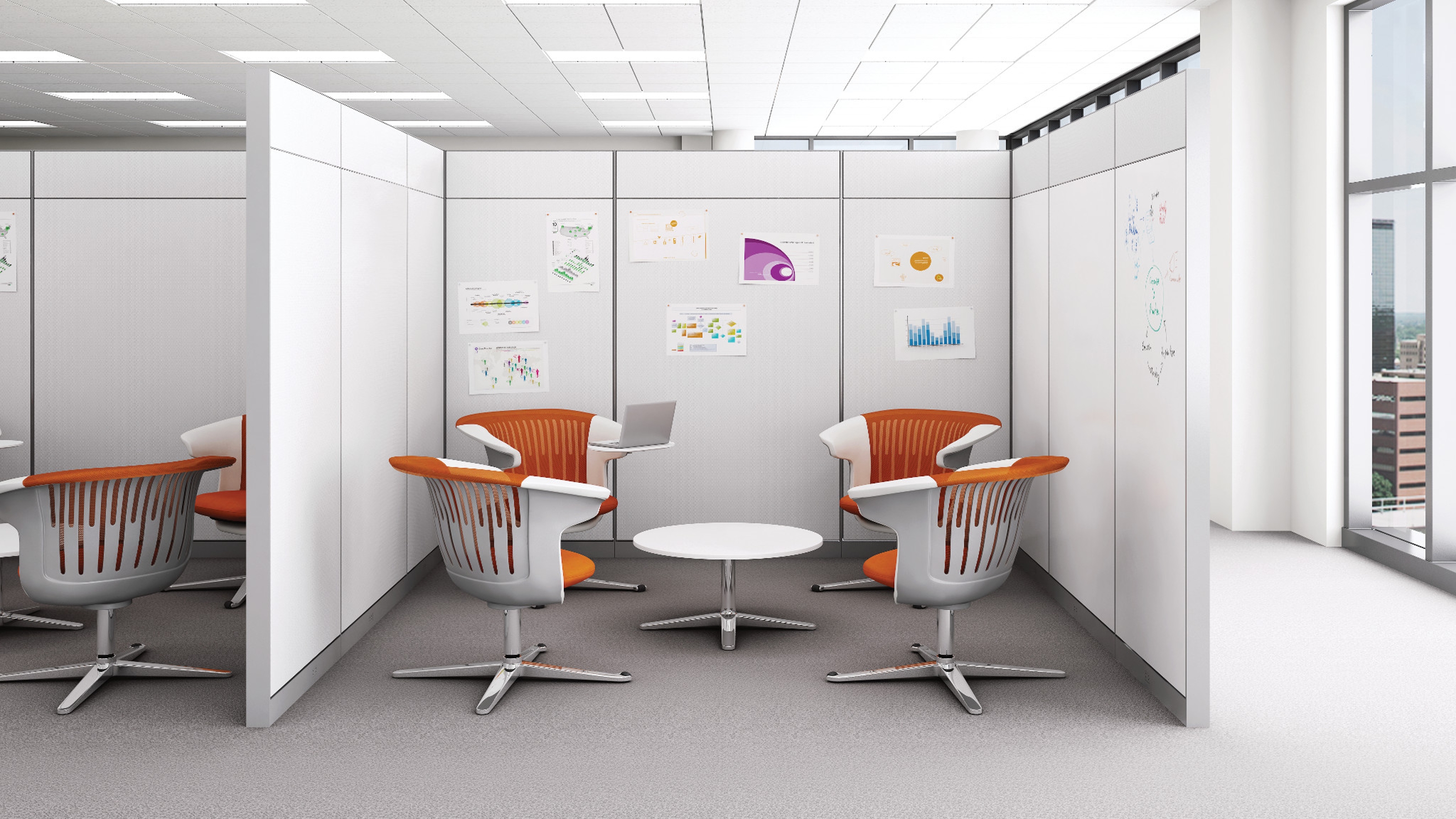 V.I.A. by Steelcase
The Vertical Intelligent Architecture range by Steelcase has helped many businesses redefine the role vertical real estate plays in the workplace. Featuring business furnishings with standard seals on all frames, and skins and seals at other potential sound paths such as the doors, outlets and hang on storage, the V.I.A. series offers true acoustic privacy for both focused heads-down work and team collaboration. As a result of V.I.A.'s engineering excellence, it has the highest STC rating on the market.
POI Can Help Your Employees Find Focus
The way people work has changed. Employees want more control over their environment and to be able to focus without distractions. POI offers various solutions that can help companies support their employees. To find the perfect business furnishing solution for your company, contact the experts at POI today.