You're the Umpire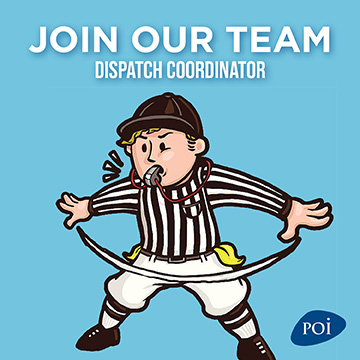 You're calling the plays and keeping things moving. From trucks and crew dispatching to administration and tracking, the Dispatch Coordinator is the home plate of the D&I operations. Early to rise, you're actively managing the daily back and forth activity and backing up other operational functionaries. You're also making calls on office supplies, filing access, mail delivery, and entering project information.
More about the role
The Dispatch Coordinator, under the direction of the Operations Supervisor, will primarily be responsible for assisting the Scheduler in dispatching/delivery and installation processes to meet & exceed client expectations while maintaining an emphasis on reducing cost and improving profitability.
And this!
Assist with the morning dispatch
Type and post daily schedule & truck runs
Review delivery tickets from previous day, work on action items
Assist in calling and confirming daily truck runs & installations
Verify that times have been inputted into Hedberg & that delivery receipts are completed
Assemble delivery tickets, plans for supervisors & drivers daily & review completed
Maintain Health & Safety records & Security Clearance for Operations staff
Maintain filing system, keep organized & up for the department to access
Back Up for Operations Supervisor assisting in tasks such as:
Collect & verify Green P Receipts
Coordination of training sessions
Back Up for booking jobs into Hedberg Scheduler
Order office supplies as required
Maintain parking ticket program through Willero Legal Services
Back Up for Scheduler as required:
Track progress of installation crews on the field
Email subcontractors to book manpower
Book trucks, equipment and other resources
Create schedule & truck runs
Other duties as assigned by management
Able to work 7am-3pm with need to be flexible on occasion
You've got the credentials to make it happen
Post-Secondary education or equivalent administration and customer service experience
Licence & access to a vehicle
Dispatching/Scheduling background is an asset
Excellent written and verbal communication skills
Exceptional attention to detail & strong organizational skills
Excellent at handling stressful situations
Proven problem-solving capabilities with tremendous patience
Outstanding Microsoft Office and Excel skills
Knowledge of Hedberg system and related software program an asset
Ability to manage heavy workload including multiple inboxes
Outstanding Microsoft Office and Excel skills
Knowledge of Hedberg system and related software program an asset
Ability to manage heavy workload
Performance Measurements:
Accurate and complete job details and reports
Keep well-organized system for all team members to access readily
Maintain a cooperative and positive relationship with all team members
Excellent attendance and punctuality
Our promise
At POI, we create environments and experiences that inspire. This holds true for both customers and staff. We offer newly designed offices that offer unique workspaces that strengthen connections and inspire innovative ways of working. With flexible spaces along with flexible hours, health and dental benefits, and competitive salaries, we not only advocate a work-life balance, but we live it!
Start Your Application
We'd like to find out a little more about what makes you tick, so we've put together a fun and short survey called the Culture Index. There are no wrong or right answers. This process, in addition to your resume, enables us to determine the fit for the role before you commit valuable time to the interview process. To complete the survey, click on this link and select the position you are applying for. Please follow the instructions and download your resume.