Corporate Artiste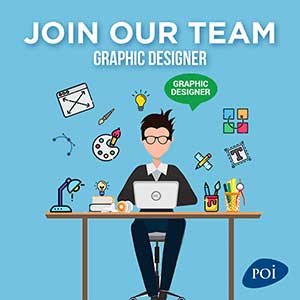 You are a master craftsman who takes creativity to a whole new level. Graphics are your thing, and you know how to expertly adapt visual assets, manage them, and convert them into unique pieces of corporate art. As a key member of the Marketing Team, the Graphic Designer is the hub of the production nexus that will touch many departments and stakeholders at POI. You understand the importance of brand and believe consistency and style are essential ingredients of production output
As someone who enjoys variety, you will be developing content, materials, and tools to support the POI message across the Customer Journey. With a strong graphic design background, your skills will be showcased on many platforms – via the website, through social media, in email communications, on ads, showcasing client stories, leveraging internal communications, and in sales collateral.

The Graphic Designer can look forward to working with an agile Marketing Team that gets things done. With an eye for detail and pride in your craft, you'll bring positivity to the team and have an opportunity to be part of a growing team.
Look forward to being involved in many aspects of the business as you help build our marketing toolkit!
And this!
Work with our Marketing team and Sales Leadership to provide design materials such as infographics, sales materials, ad banners (Facebook, LinkedIn, etc.), social media images, videos, digital advertising, email graphics, pitch decks and other marketing design-related items
Create, interpret, and design graphic concepts based on direction from key stakeholders
Strengthen visual branding aesthetic to improve the brand experience
Work to improve the website user experience
Maintain and improve on the brand identity guide
Managing and maintain digital asset libraries
Ensuring projects are completed with high quality and on schedule
Prioritizing and managing multiple projects
Liaising with external vendors to ensure deadlines are met and outputs are to the highest quality
Exhibit a strong understanding of the POI Brand story and apply to all deliverables
You've got the credentials to make it happen
5+ years of experience as a graphic designer building assets for branding collateral
Strong typography skills
A creative range that extends from web design to freestyle illustrations
Experience balancing multiple projects with variable requirements and team compositions.
Proficient in Adobe Creative Suite
Experience with PowerPoint design
Vector illustration and image editing capability
1+year experience in UI/UX design is an asset
Video editing ability is an asset
Familiarity with interior furnishings and workplace design is an asset
A degree in Fine Arts is an asset
Our promise
At POI, we create environments and experiences that inspire. This holds true for both customers and staff. We offer a hybrid work environment (work/home) including newly designed offices that offer unique workspaces that strengthen connections and inspire innovative ways of working. With flexible spaces along with flexible hours, health and dental benefits, and competitive salaries, we not only advocate a work-life balance, but we live it!
Start Your Application
We'd like to find out a little more about what makes you tick, so we've put together a fun and short survey called the Culture Index. There are no wrong or right answers. This process, in addition to your resume, enables us to determine the fit for the role before you commit valuable time to the interview process. To complete the survey, click on this link and select the position you are applying for. Please follow the instructions and download your resume.