Are you a Design Octopus who enjoys collaborating with multiple partners and team members to make a project come together?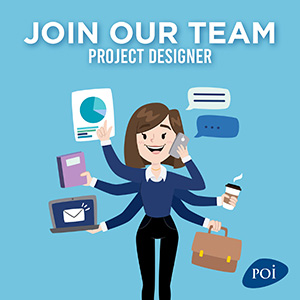 Working as Project Designer, you will deliver on our mission of creating connected workplace environments.  With tentacles spread everywhere, you will be supporting all phases of the project detail from inception to post installation including the five general areas of project work: Client Programming, Furniture Space Planning, Furniture Solution Development, Specification Development and Installation and Documentation/Project Administration
More about the role
As a creative problem solver, you know that efficiency means leveraging resources responsibly and managing them effectively. That is why, as the conduit for multiple project stakeholders, your proactive, take-no-prisoners determination requires fostering positive relationships to ensure project timelines are being met.
And this!
You'll look good wearing your design and project management hat. Some of your tasks will include:
•Generate drawings and documents, and review with senior staff to confirm accuracy (space plans, specifications and installation drawings) using the appropriate software – CET, Smart Tools, AutoCAD 2013, Hedberg
• Maintain timely and accurate timesheets, schedules and adhere to all departmental processes
• Ensure efficiency and organization of all design projects, adhering to the proposed scope of work and hours expressed by the client proposal, and communication to senior staff when additional hours are required to complete work
• Meet with internal and external clients to review project requirements and design criteria
• Conduct on-site measures and/or verification of plans
• Prepare plans, renderings and specifications for proposed furniture solutions
• Conduct inventories of existing furniture, summarize and support reapplication design as per project scope
• Conduct self-audits of all specifications, seek out peer audits as required to ensure accuracy of all drawings and specifications prior to final audit
• Prepare installation plans and participate in pre-install meetings with other POI departmental team members
• Ensure product knowledge is current by attending product training seminars, showroom visits and courses
You've got the credentials to make it happen
• Degree or Diploma in Interior Design
• Knowledge of the Ontario Building Code
• Experience in corporate planning and design is an asset
• Knowledge and experience with planning and specifying systems furniture is an asset
• (Steelcase and Global expertise are an asset)
• Proficient with AutoCAD 2013 or current release
• Experience with Microsoft Office (Excel, Word, PowerPoint etc.)
Our promise
At POI, we create environments and experiences that inspire. This holds true for both customers and staff. We offer newly designed offices that offer unique workspaces that strengthen connections and inspire innovative ways of working. With flexible spaces along with flexible hours, health and dental benefits, and competitive salaries, we not only advocate a work-life balance, but we live it!
Start Your Application
We'd like to find out a little more about what makes you tick, so we've put together a fun and short survey called the Culture Index. There are no wrong or right answers. This process, in addition to your resume, enables us to determine the fit for the role before you commit valuable time to the interview process. To complete the survey, click on this link and select the position you are applying for. Please follow the instructions and upload your resume.