With the increasing number of employees returning to the office, the focus on employee and customer well-being has taken center stage, making clean air a new expectation in work environments. Surgically Clean Air Jade 2.0 emerges as a remarkable solution that offers powerful air purifiers equipped with technologically advanced filtration, sterilization and rejuvenation.
Key Features of the Jade 2.0 Air Purifier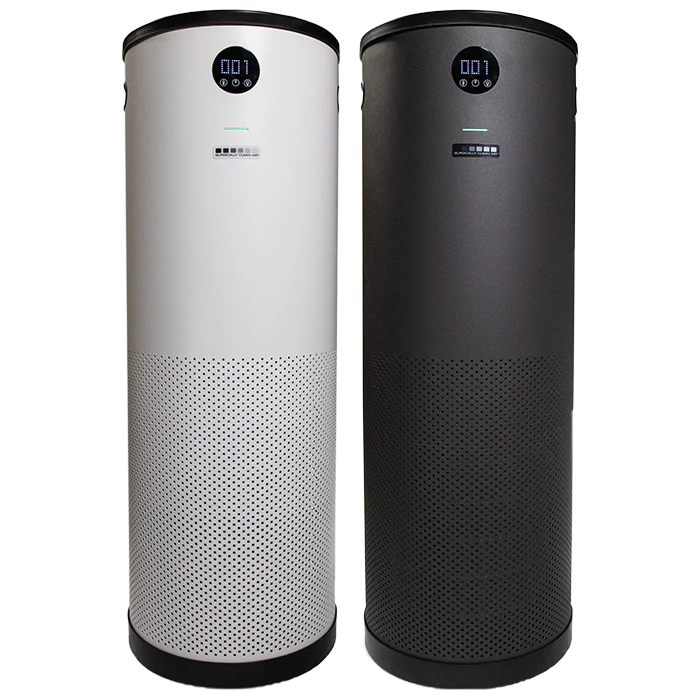 Limitless Capabilities
Surgically Clean Air Jade 2.0 air purifier possesses the unrivalled capability to effortlessly circulate large volumes of air while effectively cleaning and purifying expansive spaces. This feature holds significant importance in work environments including but not limited to commercial offices, hospitable establishments, and healthcare facilities. With its exceptional performance in effectively cleaning substantial quantities of air, the Surgically Clean Air Jade 2.0 ensures that every individual within the premise will be able to breathe in pristine, revitalizing air.
Designed for Serene Silence
Created with advanced sound engineering, the Surgically Clean Air Jade 2.0 air purifier was crafted to maintain an ambiance of serene tranquillity. With its whisper-quiet operation, it ensures that the device will blend into any environment while minimizing audible distractions.
Prolonged Cost saving
The Surgically Clean Air Jade 2.0 air purifier boasts long-lasting filters that only require replacement every 2 years. This device stands out as one of the few solutions in the market that offers the lowest cost per cubic foot of air cleaned over a 5-year period. This economical choice allows businesses of all sizes to reap the benefits of the cost-effective solution while prioritizing indoor air quality.
Advanced Technology. & Scalable Performance
Surgically Clean Air Jade 2.0's technologically advanced air purification and filtration system made with a high-quality premium steel form was engineered to capture pollutants of all shapes and sizes.  The unit has multiple distinct stages that filter, sterilize and re-energize indoor air. The HEPA-RX filter removes >99.9% of airborne pathogens* at 300 cfm. The optional UV-C+ Lamp and Activated Carbon Filter further enhance its performance, removing harmful pollutants and pathogens from the air. The device also removes volatile organic compounds (VOCs) and unpleasant odours.
Beautifully Designed, Unrivaled Performance
Surgically Clean Air Jade 2.0 transcends expectations by offering a harmonious blend of striking aesthetics and unparalleled functionality. With its sleek, contemporary, and modern design available in a beautiful snow-white or matte black colour, it is designed to be aesthetically pleasing in any setting. The product is available as a floor stand or wall mount unit, making it easy to integrate into any space.
POI Can Help You Enhance Employee Well-Being
POI provides connected solutions which boost performance, productivity, culture and well-being within corporate, healthcare, government and learning environments. Reach out to the experts at POI today to learn more about how we have successfully applied the hybrid work model to our offices and how we can help you create healthy spaces employees want to go to.
Visit our LivingLAB and witness Jade 2.0 in action today! Request your visit now.